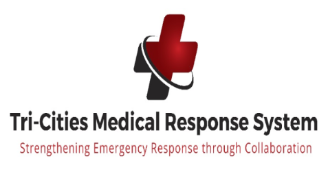 Tri-Cities Medical Response System
TRPHD serves as the coordinator for the Tri-Cities Medical Response System (TRIMRS), which helps to strengthen emergency response through collaboration.
As the coordinator for TRIMRS, TRPHD has written or facilitated community-wide disaster drills and table-top exercises. The community-wide drills have included tornado, mass fatality, and earthquake drills. These exercises test a community's ability to respond to a disaster, including testing incident command, patient tracking, and communications. As a result of a drill, TRPHD has observed hospitals and community organizations form new partnerships for responding to a disaster and policy updates to encourage preparedness.
TRPHD also helps to facilitate table-top exercises, in which a scenario of a disaster is presented to a group, in order to encourage ideas in how to respond. Table-top exercises conducted within the last year have included Ebola, Tuberculosis, and tornado scenarios.
Hospital Coalition Partners
Franklin County Memorial Hospital
Kearney County Health Services
Kearney Regional Medical Center
Lexington Regional Health Center
Veteran's Administration
Webster County Community Hospital
Agency Coalition Partners
Adams County Emergency Management
City of Kearney - Buffalo County Emergency Management
Central District Health Department
Central Nebraska Medical Reserve Corps
Clay County Emergency Management
Dawson County Emergency Management
City of Grand Island - Hall County Emergency Management
Hamilton County Emergency Management
Harlan County Emergency Management
Kearney County Emergency Management
Loup Basin Public Health Department
Region 3 Behavioral Health Services
Phelps County Emergency Management
Region 44 Emergency Management
South Heartland District Health Department
Two Rivers Public Health Department